Cruzada Guadalupana de San Francisco
"Am I not here, me that I'm your mother?"
Details about La Cruzada 2019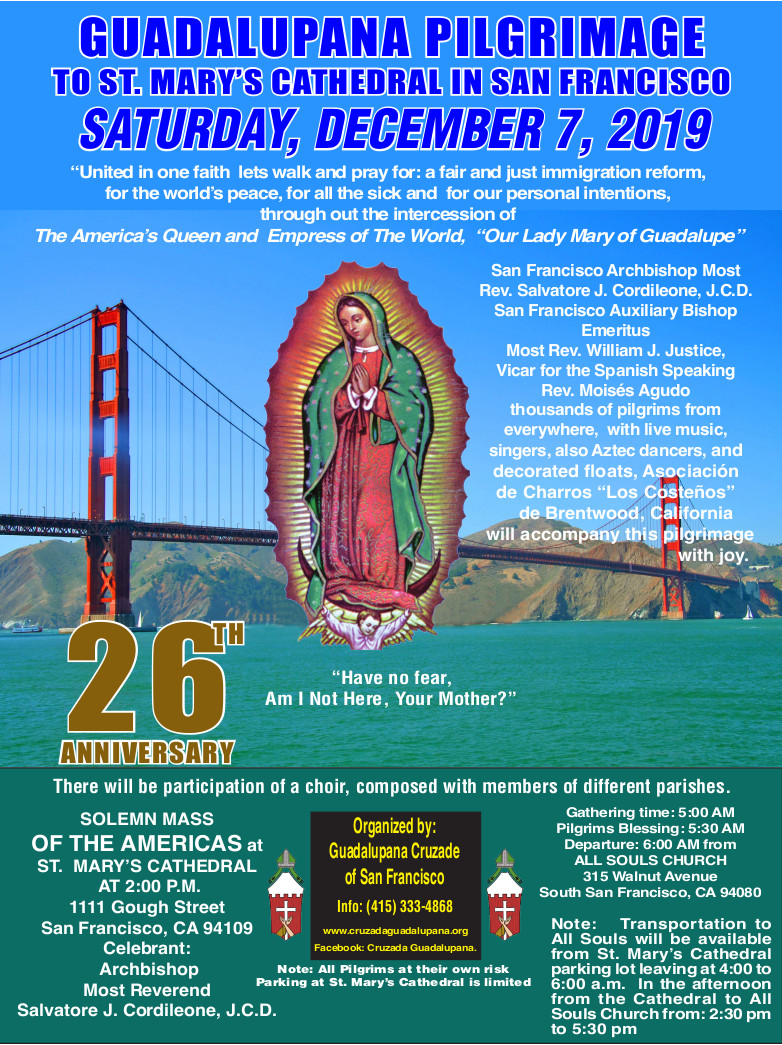 ROUTE OF THE PILGRIMAGE
San Francisco
This year is the 25th anniversary of the procession, and thousands of pilgrims (expected to be more than 30,000 participants) are expected to take part.
The pilgrims gather at 5:00 a.m. at All Souls Church in South San Francisco, at 5:30 there will be a Pilgrim's Blessings, and at 6:00 a.m. pilgrims begin to walk (for locals, please expect early morning traffic delays between 5:30 a.m. to 7:00 a.m. in this area due to the march), making their way to Holy Cross Cemetery in Colma, Holy Angels Church in Daly City, St. John the Evangelist Catholic Church in San Francisco, and finally to St. Mary's Cathedral.
About the Event
The 12-mile walk will take almost six hours to reach the Cathedral where at 2 p.m. they will celebrate with a mass with Archbishop Salvatore Cordileone. This year, the Mass is the world premiere of a musical setting commissioned by the Archbishop and created by noted composer Frank La Rocca. This is the new "Mass of the Americas", with texts in English, Spanish, Latin, and Nahuatl. All are welcome to attend this Mass, whether you have processed from South San Francisco or just walked across the street.
Our History
Our Purpose: To unite in one Faith, Walk and Pray for: the health of the sick, immigration reform, world peace and justice, our personal intentions, and with the intercession of The Queen of America and Empress of the World "Our Lady of Guadalupe".
Our Mission To practice and promote the devotion of our Lady of Guadalupe, at the same time to conserve our culture from our Latin-American roots, especially the Mexican. By doing this we grow in our Christian faith to glorify God now and forever.